Share this URL: https://hklawtechadvance3.peatix.com/
Event is FINISHED
Advance Course Three: Practical Guide to Digital Transformation and Integrating LawTech into Practice


Details of Advance Module 3: Practical Guide to Digital Transformation and Integrating LawTech into Practice
While essential to enhancing your cost-efficiency and competitiveness, innovating your practice and legal team can be daunting without careful preparation, design and implementation of "going paperless" and other digital transformation strategies. Increasingly, a wide variety of affordable LawTech products are becoming available in the market. But they could become wasted resources if they were bought without thoughtful change management and legal operations practices.

Your technology implementation plan should be tailored to your organisation and colleagues. This requires you to thoroughly understand your IT resources and capabilities, and may require appropriate audits and consultation on data and device mapping, legacy systems, backup storage and redundancies. We will cover the essential preparations you will need in order to make more informed decisions when picking solutions for your digital transformation strategy, including preparation for adopting AI-powered tools.

We will examine case studies on the integration of LawTech into legal workflows, running pilots and proofs-of-concept and planning for staff training and feedback.

In this session, we will talk about workplace transformation in order to keep updated with the latest solutions that are available for legal practice. We will go through the necessary process and setup to smoothen the integration towards the digital practice. We will share common practices and industry standards on how to work with technology. We will share case studies and compare lawtech products against non-digital routines.


"Going paperless" - preparing your data for digitisation and formatting considerations
Infrastructure setup - preparing your hardware ahead of going digital
Workplace transformation - preparing process flows and training your team on how to operate in the new digital environment
Common issues faced onboarding new tech and how to overcome them
Benchmarking against industry standards and best practices
Technology trends - Where is it all heading and which is better?
The dates are for reference only and registrants will be notified if changes are needed.
Terms & Conditions apply.

CPD and Reindustrialisation and Technology Training Programme (RTTP) accreditation under application.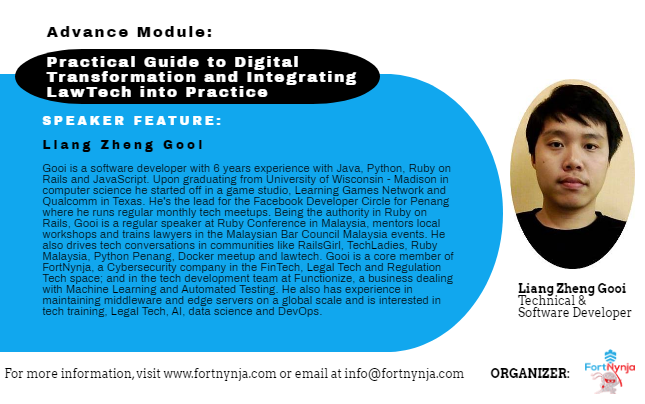 Other Related Courses
Learn about the new and upcoming LawTech and cybersecurity training course, which has been tailored for Hong Kong legal practices, their fee-earners and staff.

The Basic courses are suitable for everyone.
The Advance courses are suitable to professionals with entry or intermediate-level knowledge of IT systems.

Basic (2 hours per module 7-9pm HKT on specific weekdays)
1) Introduction to LawTech / Practice Related Technologies | 5 Aug & 19 Aug, 2020
2) Running Your Practice Like a Tech Company | 11 Aug & 26 Aug, 2020

Advanced (3 hours per module each session)
1) Cybersecurity for Legal Teams | 12 Aug & 18 Aug, 2020
2) Deep Dive into Cloud, AI, Ethics & Compliance | 29 Aug, 2020
3) Practical Guide to Digital Transformation and Integrating LawTech into Practice | 29 Aug, 2020

Course packages available upon request: info@fortnynja.com

The courses focus on practical and legal-technology cross-disciplinary knowledge.

Dates shown are for reference only and my be subject to changes.

Additional BONUS for all course participants
Purchase any of the modules above and you will also get access to a practice-related technology product demonstration sessions to become acquainted with the latest tools on the market. Leverage on the research done from a law tech perspective for potential solutions you can incorporate into your practice immediately. Compare features against your current service provider and get a clear understanding on what else is available in the market before you select your final solution.

The above information is provided for reference only and is subject to change without further notice.
Tickets are non-tranferrable and non-refundable.
For more information, please visit www.fortnynja.com or email us at info@fortnynja.com
Read more
Sat

Aug 29, 2020
2:00 PM
-
5:00 PM
HKT
Add to Calendar
Venue

Online event
Tickets

Advance Course Three: 29 Aug (2pm-5pm) | Practical Guide to Digital Transformation and Integrating LawTech into Practice

SOLD OUT

HK$2,400.00

Early Bird (Limited)

SOLD OUT

HK$2,200.00
Organizer